Evangelists' Hall of Faith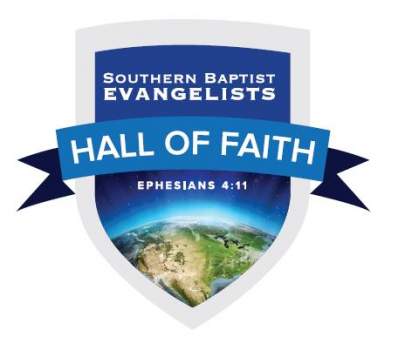 We are familiar with the expression "Hall of Fame," which is a phrase that brings to mind great men and women who have been honored in a particular organization, entity or sport. Our Southern Baptist Evangelist officers believe in honoring the life and ministry of evangelists who have "fought the fight" and "kept the faith."
At the August 2007 SBC Evangelist Executive Committee Meeting, the officers approved a motion brought by President Brian Fossett to establish the "Evangelists' Hall of Faith" (EHOF.) The inaugural inductees are recognized in the 50th Anniversary Directory. Additional deserving evangelists will be considered via nomination by the officers and elected by the membership every other year, prior to the June meeting of the Southern Baptist Convention that year.
The North American Mission Board graciously offered SBC Evangelists a prominent conference room at their facility in the Atlanta area to display Evangelists' Hall of Faith memorabilia during the early days of the Evangelists' Hall of Faith. At the request and invitation of the Executive Committee of the Southern Baptist Convention, the display has been moved to Nashville, Tennessee, and displayed in a prominent place in the Executive Committee buildings.
Below you will find an alphabetical listing of the EHOF inductees. Each name is linked to a page where you may view a photo and brief ministry profile for each EHOF inductee.