Roy Fish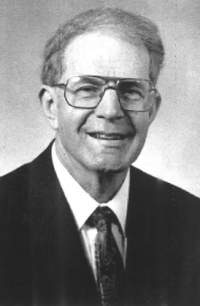 Hall of Faith Class of 2010
TEXAS
Many Southern Baptists considered the name Roy Fish synonymous with "evangelism," a fitting remembrance for the man who served Southwestern for nearly 50 years and once occupied the L. R. Scarborough Chair of Evangelism, considered "The Chair of Fire."
As a Southwestern professor, Fish impacted the lives of thousands of students, many who credit him with instilling a fire for evangelism in their souls. Fish organized for many years the annual Spring Break Revival Practicum, now called Revive This Nation, as the seminary sent out hundreds of student preachers across the United States to preach revivals in local churches.
Fish held several prominent denominational positions, including Second Vice-President of the Southern Baptist Convention and Interim President of the North American Mission Board.
Fish served as pastor or interim pastor at more than 20 churches, and spoke and preached at conventions, conferences and churches on every continent except Antarctica. He authored several books and numerous articles and essays on evangelism.
Fish received various awards, including the W.A. Criswell Lifetime Award in Evangelism from the Southern Baptists of Texas Convention, the Charles G. Finney Award for Evangelism in Theological Education, and an honorary doctorate from Southwest Baptist University. The SBTC established in 2006 the Roy Fish Evangelism Award.
Fish held a bachelor's degree from the University of Arkansas and both the Bachelor of Divinity (equivalent to the current M.Div.) and the Doctor of Theology from SWBTS. This much beloved SWBTS distinguished professor emeritus of evangelism, died Sept. 10, 2012 at age 82.
Dr. Fish never claimed to be a Vocational Evangelist. He was a professor and a mentor. He was a Preacher and an ambassador. He was a lecturer and a consistent soul winner. He lit an Evangelistic fire under thousands of students. His leadership and example in the field of evangelism has impacted so many evangelistic ministries that the membership of COSBE chose to honor him by electing him to the Evangelists Hall of Faith.