What a great time to be alive! God is bringing in the greatest harvest around the world in all of history. Jesus commanded us in Matthew 9:38 to pray to the Lord of the Harvest that He would send out laborers into the harvest.
As evangelists, we want to labor in the harvest fields, to see people come to Christ, and to encourage and equip other laborers to go reach the least, the last and the lost of this world. Join us in praying that God will save souls across this nation and throughout the nations of this world, and bring people into His Kingdom through the work of His called and anointed evangelists. Please pray for our evangelists and their families, and let us know how we may work together to fulfill God's call to reach the nations with the Good News of Jesus Christ.
About This Website
The Conference of Southern Baptist Evangelists is pleased to provide this resource catalogue and online directory of Southern Baptist Evangelists, where you can find information about those who have followed the call of God into the harvest fields of evangelism and revival. The evangelists listed in our directory have received denominational endorsement through the Southern Baptist Convention (SBC), and are available for crusades, revivals, rallies, youth events, evangelistic training, conferences and international ministry projects. You may search for evangelists by category (type of evangelism), first or last name, or state to find the right person for your ministry event. Download our new app for Android or iPhone for instant access to our directory on your smartphone!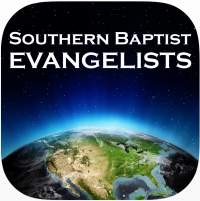 We pray that as you seek to engage one of our SBC evangelists, that God will lead you and guide you according to His will, and that many people in your community will be changed by the power of Almighty God!
Please contact us at cosbe@sbcevangelist.org if you have further questions. Thank you for visiting our website!