These are strange but amazing times in which we live. Darkness is advancing at an incredible speed while God's light is spreading to places where the gospel has never gone. There's never been a greater need for the ministry of evangelism and the office of the evangelist as we have today.
I'm so glad that Southern Baptists have consistently recognized the priority of evangelism throughout our history. I'm praying that the winds of revival will once again blow across our hearts, causing the flames of evangelism to spread throughout the church in America and around the world. God has given us powerful tools to reach the world for Jesus. Please join me in praying for a spiritual awakening that results in the greatest harvest in the history of the church.
Preach the gospel. Share the love of Christ. Pray for revival, and pray for our evangelists! Let's join together in this great task of proclaiming Christ to every person on the planet.
About This Website
The Conference of Southern Baptist Evangelists is pleased to provide this resource catalogue and online directory of Southern Baptist Evangelists, where you can find information about those who have followed the call of God into the harvest fields of evangelism and revival.
The evangelists listed in our directory have received denominational endorsement through the Southern Baptist Convention (SBC), and are available for crusades, revivals, rallies, youth events, evangelistic training, conferences and international ministry projects.
You may search for evangelists by category (type of evangelism), first or last name, or state to find the right person for your ministry event here. Download our new app for Android or iPhone for instant access to our directory on your smartphone!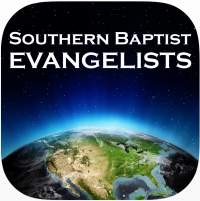 We pray that as you seek to engage one of our SBC Evangelists, that God will lead you and guide you according to His will, and that many people in your community will be changed by the power of Almighty God.
Please contact us at cosbe@sbcevangelist.org if you have further questions. Thank you for visiting our website!