It seems to many today that our world is living in a "post Christian" era, in which traditional biblical values and beliefs are seriously on the decline. It is estimated that more than half of the world's population is ignorant of the Gospel of Jesus Christ, with millions, in fact, having never even heard of His name.
The gift of the Evangelist is needed today, perhaps more than ever before! The truth of God's good news is as relevant as ever, and the proclamation of that truth can mean the difference between heaven and hell for multitudes of unbelievers.
I want to encourage you to prayerfully consider utilizing the gift of the Vocational Evangelist in your church and community. You will be glad you did!
About This Website
The Conference of Southern Baptist Evangelists is pleased to provide this resource catalogue and online directory of Southern Baptist Evangelists, where you can find information about those who have followed the call of God into the harvest fields of evangelism and revival.
The evangelists listed in our directory have received denominational endorsement through the Southern Baptist Convention (SBC), and are available for crusades, revivals, rallies, youth events, evangelistic training, conferences and international ministry projects.
You may search for evangelists by category (type of evangelism), first or last name, or state to find the right person for your ministry event here.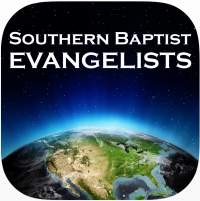 We pray that as you seek to engage one of our SBC Evangelists, that God will lead you and guide you according to His will, and that many people in your community will be changed by the power of Almighty God.
Please contact us at cosbe@sbcevangelist.org if you have further questions. Thank you for visiting our website!