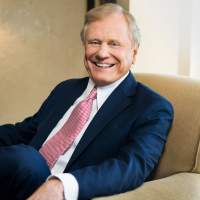 A SPECIAL WORD TO SBC EVANGELISTS FROM DR. ED YOUNG on the occasion of the 10TH Anniversary of the establishment of the Evangelists' Hall of Faith
June 6, 2018
Conference of Southern Baptist Evangelists
c/o David Stockwell, President
PO Box 444
Katy, TX 77492
Dear Southern Baptist Evangelists,
"For there is born to you this day in the city of David a Savior, Who is Christ the Lord." Found in Luke 2:11, this proclamation from God's messenger to the shepherds is familiar to all of us. Taking this proclamation and "running with it" as the shepherds did is the charge to all believers according to the supreme mission statement of Matthew 28:19-20. To some believers, however, the Holy Spirit gave a spiritual gift, an added measure of faith and effectiveness in taking the Good News of Jesus Christ into all the world. Such are you who serve Southern Baptists as evangelists. It is indeed a high calling to be set apart by God to be His messenger. Furthermore, it is an honor to be recognized by your peers as models to be emulated by those who one day will stand on your shoulders. So, on this special occasion, let me say thank you, evangelists, and congratulations to all in the Hall of Faith.
On this 10th Anniversary of the establishment of the Evangelists' Hall of Faith, evangelism faces unique challenges. As never before in our culture, there is an ignorance of Jesus and the Bible, as well as an open hostility toward Christians and Christianity. In fact, it can be said that the secular cities in this 21st century are akin to the pagan cities Paul encountered in the 1st century. Not only is the secularization of society a challenge, so is the advancement of technology, which tends to rob people of depth and quality in personal relationships, and to produce rather than reduce the distractions, busyness, and stresses of everyday life. Yet with these challenges come tremendous opportunities and avenues to carry the Gospel into all the world. Therefore, your spiritual gifts of "drawing the nets" and "gathering the harvest" are needed more than ever. We are looking to you - no, we are counting on you - to stay in the battle. Your work, your events, and your church support are essential to permeating our communities, cities, states, nations and world with the Gospel.
Again, thank you for your faithfulness, your service, and your sacrifice. May God keep His hand on your lives, your families, and your ministries as you continue proclaiming the Good News of a Savior, Who is Christ the Lord.
His and yours,
H. Edwin Young, Pastor
Second Baptist Church
Houston, Texas