E.J. Daniels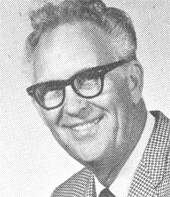 Hall of Faith Class of 2008
FLORIDA
Elam Jackson Daniels was born in Suwannee County, Florida on November 1, 1908. His father was a farmer-timberman and his mother was a school teacher. He graduated from Branford High School in Branford, Florida in 1929. Daniels attended Stetson University and Southern Florida Baptist School at Plant City where he received a certificate and did further studies at Florida Southern in Lakeland. He received the D.D. degree from Bob Jones University in 1948.
Dr. Daniels served as pastor of five Southern Baptist churches from 1930 to 1947. Daniels served as a Southern Baptist Evangelist from 1947 until his death.
He reached an audience of millions with his television ministry and crusades across the world. In addition to his weekly television show, Daniels preached six or seven week-long international crusades each year and an equal amount in the United States. Many Southern Baptists recall the meetings in their rural communities, where Daniels worked up a sweat in his old fashioned tent meetings. Daniels' sermons would have humor, a lot of Bible with tremendous application and a strong appeal to come to Christ.
Daniels, founder and director of Christ for the World Inc., wrote 38 books and was editor of Christ for the World Family Magazine. His Orlando printing company produced many religious publications. He will be best remembered as a preacher whose one desire was to win people to Christ. This energetic preacher started an international ministry because he knew there was a lost world out there. He felt if preachers did not go worldwide, there would be millions of people who would never hear the Gospel.
Dr. Daniels preached in hundreds of revival meetings and influenced many young ministers by his personal vibrant preaching. He was used widely all over the Southern Baptist Convention in revivals and area-wide crusades. He became known as The "Million Soul Man" as thousands upon thousands responded to his Gospel preaching in India, Korea and Africa.