Homer Martinez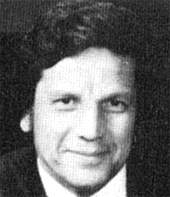 Hall of Faith Class of 2008
TEXAS
Homer was converted at the age of five in his native city of San Antonio, Texas and began quoting the Bible when he was six years old. When he was eleven he preached his first sermon.
Since that first sermon Rev. Martinez has led hundreds of people to faith in Jesus Christ. He conducted evangelistic crusades all across America and around the world.
While studying at Georgetown College in Georgetown, Kentucky he pursued another skill that he enjoyed as a young child. In 1949 he won the state Golden Gloves boxing Championship in Kentucky. The same determination that made him successful in the ring has carried over into his ministry. He doesn't hit people with gloves, but he committed to hitting people with the truth of God's Word.
His favorite Bible verse was Luke 2:52 "And Christ increased in wisdom, in stature and in favor with God and Man." He said…"This verse points up development of one mentally, spiritually and physically."
Because of his interest in boxing, the Evangelist said "One of my most exciting moments was when Bobby Dukes of Miami and formerly from San Antonio, one time heavyweight contender and his wife joined the Wayside Baptist Church while I was holding Revival services there."
Rev. Martinez has a Mexican and Spanish heritage. From his father he inherited a love for poetry; his favorite poem was written by Alfred Lord Tennyson…"A Psalm of Life." He also carried the name Homer, the epic poet of Greece.
In addition to his revival and crusade ministry Martinez founded the "America for God" radio broadcasts and was the originator of the "Lift for Life" telecast. His ministry was focused on events in the United States but he also had international ministry endeavors in Panama, Peru, Argentina and Mexico.