Don Womack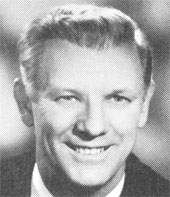 Hall of Faith Class of 2008
TENNESSEE
Dr. Don Lee Womack was born August 3, 1922 at Sage, Arkansas to John Wesley Womack and Catherine (King) Womack. In 1941 he left Arkansas for Hollywood California where he worked directly for Samuel Goldwyn at MGM Studios. While in California, he became a Christian under the pastoring of Dr. Porter Barrington at First Baptist Church, Van Nuys. It was there that he was called to be a full time Evangelist and moved to attend Bob Jones University in South Carolina. He did much of his undergraduate studies there and participated in their Shakespearian Theatre Department. He ultimately transferred to the University of Memphis and completed his Bachelor of Science in History. He stayed at the University to earn a Master of Science in both English and World History. He earned his Doctor's degree in Theology from Northwestern University, Chicago, Illinois. Later in life he had an Honorary Doctor of Divinity conferred on him from Immanuel Bible College, Atlanta, Georgia.
In 1959 he met and married his wife Lorene. They were married at Bellevue by Dr. Robert G. Lee and remained faithful members at Bellevue Baptist until his death. They had one daughter.
He traveled the country as a full time Evangelist preaching the Gospel. He served the Conference of Southern Baptist Evangelist in various capacities for 18 years. In between revivals he and Lorene did genealogy research for their family and others. He also took the time to educate and train others in how to accurately document their own family histories.
Dr. Womack authored five Christian books and five genealogical books. He wrote the Introduction to the book of First John for a Limited Edition of the Christian Life Bible for Thomas Nelson Publishers.
He served the Lord and community as a full time Evangelist for 64 years before going to be with the Lord on January 31, 2010. His wife and daughter currently reside in Middle Tennessee.