Junior Hill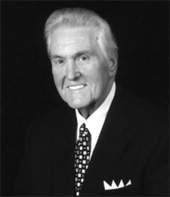 Hall of Faith Class of 2008
ALABAMA
Junior Hill began his ministry at age nineteen and served as a pastor for eleven years in Alabama and Mississippi before entering vocational evangelism in 1967 as a full-time Southern Baptist Evangelist.
A native of Hartselle, Alabama, he received his BS degree from Howard College (now Samford University) Birmingham, Alabama and his Master of Divinity from New Orleans Baptist Theological Seminary in New Orleans, Louisiana. He received the Doctor of Divinity degree from Liberty University, Lynchburg, Virginia. He has also been awarded a Doctor of Divinity degree from Covington Seminary in Ft. Oglethorpe, Georgia.
He has served as First Vice-President of the Southern Baptist Convention and in 1995 was recognized as the Distinguished Alumnus of the Year by New Orleans Baptist Theological Seminary.
He has conducted over 1700 revivals and numerous foreign crusades. In addition he is a frequent speaker at pastors meetings, evangelism conferences, seminaries and state conventions across the country. Hill has enjoyed preaching revivals over the years, but God has also given him a deep burden for pastors. Because of his love for pastors, Hill often speaks at local Pastors conferences and similar events. "Early in my ministry I realized that God had somehow turned my heart to loving preachers," Hill said. "Little bit, by little bit, the Lord broadened that opportunity. I've had the joy over the years to speak at many venues where pastors were attending and that has been a great blessing to me."
Hill especially enjoys offering encouragement to small church pastors. According to Hill, many events focus on the highly successful pastor, causing those with smaller ministries more discouragement than encouragement. "One of the things God has really laid on my heart is to try to give encouragement to those who think they are not important or are beat down," he said. "God doesn't reckon success and failure like we do." Instead, Hill sees success in ministry as being faithful to do what God called the minister to do. "I'm not sure when we stand before the Lord in the judgment seat that He's going to be overly concerned with how big our ministry was but how faithful we were to what He had given us," Hill said.
One of the main ways Hill encourages others is through the humorous sermon delivery he uses -- all without compromising the Biblical truth. But, Hill said, he never intended to be a funny preacher.