Bill Stafford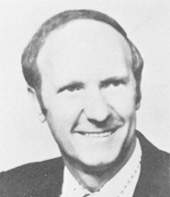 Hall of Faith Class of 2008
TENNESSEE
Called to preach at the age of 19, Bill Stafford surrendered after a time of rebellion in his teenage years. In an interview with The Christian View, he said of his early years, "My Mom and Dad kept me in church. I got saved when I was 12. I was raised in a Christian atmosphere. I went through a time of rebellion, but the whole time I was rebelling, I still knew that God had His hand on me and that He was not going to let me go. But I still put it off until I was 19. I got tired of running, and I surrendered to preach.
As a youngster, from the ages of 11 to 13, he often sang in church with his mother, whom he described as a great singer. A little older, he wanted to be a comedian. "I would study Red Skelton," he said. "I could do anything he did. I wanted to be cute. I entertained the high school two times a week." He graduated from elementary school two years ahead, so, in high school, his peers were older than he was. He graduated at age 16. "I got to rambling, running around, just sinning," he said. "That was a tough time. I wasn't a very good Christian. Those years wasted really grieve me, but God restored me, and I knew what I was going to have to do, and I surrendered to the ministry."
As President of International Congress on Revival, Stafford has preached overseas and has brought pastors to countries such as South Africa, Australia, Ireland, Zimbabwe, Austria and Hungary for the past 24 years.
Bill describes his past 40 years of evangelism as 'phenomenal.' "I can't tell you about it without weeping," he said. "It is unbelievable, preaching in churches I couldn't imagine, and had no reason why I was there except that He said, 'I will open the door that no man will shut.' Manley Beasley said, 'Let Him kick the doors open, and walk through them.' That's what I did, and He 'shocked the daylights' out of me. If I were to die today, I've had one glorious journey.
From an interview with Karen Brewer of The Christian View Magazine. http://www.thechristianviewmagazine.com