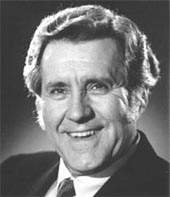 Cliff Barrows
Hall of Faith Class of 2008
North Carolina
Clifford Burton Barrows served as the music and program director for the Billy Graham Evangelistic Association. He has been a part of the Graham organization since 1949. Barrows is best known as the host of Graham's weekly Hour of Decision radio program as well as the song leader and choir director for the crusade meetings.
Dr. Graham believed the song-leader had to be a skilled man, with a casual air and warmth that could make self-conscious people loosen up. The story is told of a rally with Dr. Graham in Asheville when the song-leader did not show. Someone said Cliff Barrows was in the audience. Dr. Graham did not know him. The people assured him that Barrows was pretty good. In the words of Dr. Graham…"No amateurs, this week is too important."
Barrows was surprised to find himself called backstage. He was introduced to Dr. Graham who asked him… "Do you think you can handle it"? Barrows answered, "Yes sir, I know a lot of these people." As Barrows entered the stage there was a smattering of applause and his opening statement was … "Evening friends, I just want to say that you can't be more surprised to see me up here than I am." When Barrows came off the stage, Graham asked him if he needed a job. He responded… "No sir, but I'll take this one if you are offering."
In 1944 he earned his BA in Sacred Music and Shakespearean Drama from Bob Jones University, Greenville, South Carolina and in 1968 received an Honorary Doctor of Sacred Music from John Brown University, Siloam Springs, Arkansas.
Barrows was ordained as a Baptist minister in 1944, and served as an assistant pastor at Temple Baptist Church in St. Paul, Minnesota through 1945. Barrows joined Graham at a rally in Asheville, North Carolina that year, and has remained with Graham ever since. Since the beginning of Graham's crusade ministry Barrows and "Bev" Shea have been the nucleus of the crusade musical team. Barrows is choir director, platform emcee and radio-television program director.
The auditorium at the Billy Graham Center of Wheaton College, in Wheaton, Illinois was named Barrows Auditorium in his honor in 1982. Barrows was the compiler of many hymn books of evangelistic songs, some of which were prepared for specific BGEA evangelistic campaigns. For significant contributions to Gospel music, Mr. Barrows was inducted into the Nashville Gospel Music Hall of Fame in April 1988 and into the Religious Broadcasting Hall of Fame (NRB) in February 1996.