Tom Cox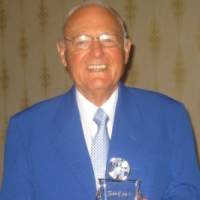 Hall of Faith Class of 2012
ARKANSAS
Thomas Waldo Cox was born near Picayune, Mississippi on July 29, 1934 to Waldo and Herschel Cox. Life was good for the Cox family until Tom's father, Waldo, fell from a bulldozer and suffered injuries that would leave him severely disabled. At age seven, Tom and his mother began earning the living for the family. Tom started as a shoeshine boy at Camp Shelby. World War II brought thousands of men through the Army base near the Cox home. The soldiers at the base taught him to curse (in several languages) and fight. At age 15, he convinced his mother to sign for him to join the Mississippi National Guard. His leadership already developing, he soon became the youngest Sargent E7 in guard.
In 1951, after having spent time at Fort Benning in Georgia, seventeen-year-old Tom Cox returned home to Mississippi (a "dry" state) with "enough whiskey for the largest party South Mississippi had even seen," he said. But, his mother had already planned for him to go with her to a revival service. "I tried to not listen to the sermon," he said; "I wanted to go to the party." After the service, he drove his mother home then headed to the party. Just then, the Holy Spirit gripped his heart. Tom tuned around and we went back inside to his mother and asked, "The preacher said tonight that all I had to do was ask God to save me -- do you think it is that easy?" He knelt down beside his bed and gave his life to Jesus Christ, never making it to the party.
Tom Cox served three years active duty on the Czechoslovakia and Germany border. Following military service, he attended Samford University in Birmingham on the G.I. Bill, graduating in 1960 and for seventeen years pastored churches in Alabama, Florida, Louisiana, Missouri and Oklahoma. Each experienced significant baptism growth.
God blessed him with a wife and four children. He married Kay Amyx, daughter of Mayor Jay Amyx, of Boise, Idaho. Mayor Amyx was instrumental in starting SBC work in the Boise area.
The family sang together and became known as Cox's Army, recording three LPs. In 1971, he formed the Tom Cox Evangelistic Association. But, shortly thereafter, feeling the need to be at home with his children, he accepted a pastorate in Tulsa, Oklahoma. Over the next 40 months, the church experienced more than 1,000 additions. He began receiving requests to preach more revivals and evangelistic crusades than ever before, and went back into full-time evangelism.
He and his wife Kay began working as a team. Their method was a new "church outreach" type of evangelism. They also utilized music as an evangelism tool, recording eight projects. Leading more than 1,800 revivals in the United States, they saw thousands profess faith in Jesus Christ.
Tom Cox graduated to heaven September 6, 2018. We will miss this wonderful man of God. Kay Cox continues to minister in full-time evangelism and is currently an officer of Conference of Southern Baptist Evangelists.