Bailey Smith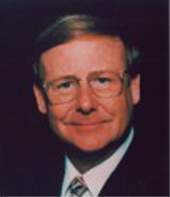 Hall of Faith Class of 2008
Georgia
At age 34, he became pastor of the second largest church in the denomination. He became the youngest man ever to serve as President of the Southern Baptist Convention. He served as President of the Southern Baptist Convention and the Oklahoma Baptist Convention simultaneously. As a pastor he has led more people to Christ than any other Southern Baptist pastor in an equal period of time in the history of the SBC. As pastor of the First Southern Baptist Church of Del City, Oklahoma he was noted for baptizing 2,000 in one year. He left the local church in 1986 to enter full-time evangelism. He is the only former President of the Convention to enter Crusade Evangelism.
His "Pointing The Way" crusade ministry has seen countless souls won to Christ. Everything in the area wide crusades is geared to the purpose of souls. You see much greater things accomplished when churches work together. Pastors of the area strengthen their relationships with each other and a spirit of cooperation is born.
Countless lives have been touched and changed by the Gospel of our Lord and Savior through Real Evangelism Bible Conferences. Bailey Smith is the host of the conferences which he originated in 1984. He hosted the first conference at the First Baptist Church of Euless, Texas. Dr. Jimmy Draper was pastor of the church at the time. Since then, the conferences have become a significant focus of Smith's ministry. The conferences are not designed to instruct or train. "My real goal has not been for people to learn a great deal," he said. "You can buy a tape or a book to learn principles and concepts. We want a man to leave absolutely changed, blessed, and stirred." According to Smith, the conferences achieve that goal through a combination of powerful preaching and heart-stirring music.
Dr. Smith authored the best seller, "Real Evangelism," and several other books.
Bailey Smith graduated to heaven January 14, 2019, after a courageous battle with cancer. We will miss this great man of God!