T.W. Wilson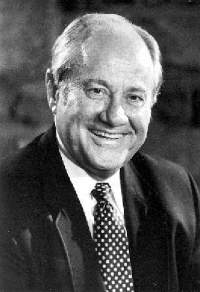 Hall of Faith Class of 2008
NORTH CAROLINA
Thomas Walter "T.W." Wilson was born June 30,1918. Wilson graduated from Bob Jones University in 1941 before pursuing graduate work at the University of Alabama. He earned a doctorate from Bob Jones University in 1949. He and Mary Helen were married in 1942. T.W. had successful pastorates in Dothan, Alabama and Ashburn, Georgia. For two years he served as the Vice President of Youth for Christ International. For four years, he kept a busy schedule as an evangelist. It is recorded that in one church in a place called Hell Hole Swamp, South Carolina there were 300 professions of faith in one of his early meetings.
From 1948 to 1951, T.W. Wilson and Billy Graham served at Northwestern Schools in Minneapolis. Graham was president, Wilson vice president. From 1952 to 1956, Wilson traveled the United States and the world as an independent evangelist. He then joined the BGEA.
FROM 1956 until the day he died, T.W. was an Associate Evangelist for the Billy Graham Evangelistic Association. Dr. Graham and T.W. Wilson logged countless miles together over these years. Since 1956, they have traveled to every continent. He and Dr. Graham were lifelong friends. During those years of friendship and ministry together, millions were reached by the power of the Gospel of Jesus Christ. T.W. was a personal soul winner as well as an evangelistic preacher. Oftentimes their schedules found them in the presence of kings, queens, presidents and the most famous people in the world.
Dr. Wilson was the manager of Billy Graham's offices in Montreat, North Carolina and the president of Blue Ridge Broadcasting Corporation in Black Mountain. He had also served on the board of the Southern Baptist Theological Seminary in Louisville, Kentucky.
T. W. was known for his sense of humor. He was a jovial, joyful person to be around. Someone asked T.W. what he would be if he weren't a Baptist. T.W. said, "Ashamed." T.W. knew the joy of the Lord. Even after a stroke, he was anything but a sour saint.
Southern Baptist Theological Seminary honored Wilson's commitment to the Gospel with the establishment of the T.W. and Mary Helen Wilson Chair of Evangelism. The chair, established in March 2000, falls under the Billy Graham School of Missions, Evangelism and Church Growth.
On May 24, 2001 T.W. Wilson went to his heavenly reward. He died unexpectedly, although he was recovering from a stroke he suffered in 1999.