Evangelism Summit '18 ~ Evangelists, the Southern Baptist Convention, and the White Paper Report
Fifteen of our SBC Evangelist leaders met in March of 2018 for Evangelism Summit '18 in Jackson, Tennessee, to pray, discuss, and strategize on ways to increase awareness and promote the Office and Work of the Evangelist within the Southern Baptist Convention.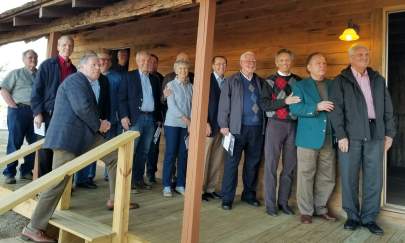 Following Billy Graham's graduation to heaven, his fellow Southern Baptist evangelists "are ready to pick up the torch of evangelistic ministry in the 21st century," said David Stockwell, president of Conference of Southern Baptist Evangelists from 2016 to 2018, in an interview with Baptist Press.
"Southern Baptist Evangelists stand ready to assist, support, and serve every pastor and church in the Southern Baptist Convention by helping in evangelistic outreach programs and training their people in personal evangelism techniques. Evangelists and pastors can work together to reach their communities with the Good News of Christ.
"Over 200 million people in America and over 5 billion people internationally have not heard a clear, uncompromising presentation of the Good News of Christ," Stockwell said, "and have not repented, turned and trusted Jesus Christ as Lord and Savior. Despite these sobering facts, we are living in the greatest days of harvest in history. Missiologists tell us that more people are coming to Christ worldwide in this generation by far than ever in history.
"Southern Baptist Evangelists are looking forward, at the Dallas convention in June, to connecting with pastors and church leadership to discuss and strategize on ways we can work together to reach the lost in their communities and around the world," Stockwell said.
Jerry Drace, Convener of Evangelism Summit '18, and Dr. Hal Poe of Union University have put together a White Paper Report, which briefly summarizes current facts and statistics now facing the SBC in the face of significantly declining baptism numbers across the nation. The White Paper also provides simple strategies for the Convention and local pastors which, if implemented with the help of our SBC Vocational Evangelists who are gifted and called to do this work, could help make a significant difference in reaching those lost without Christ in our communities and across the nation.