Southern Baptist Convention
Phoenix, Arizona June 9-14, 2017
We are in the midst of an exciting year for Southern Baptist Evangelists! Our annual meeting in Phoenix is just around the corner, and we are looking forward to a wonderful time of ministry and fellowship!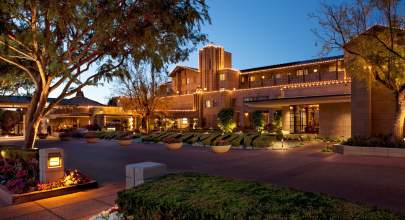 This year we are excited to host our evangelists' retreat at the beautiful and historic Arizona Biltmore hotel, just a few minutes' drive north of downtown Phoenix, Friday and Saturday, June 9-10. We will enjoy some great meals and fellowship together, along with plenty of time to relax and enjoy the eight amazing swimming pools, championship golf course, and Arizona sunshine! Our retreat will conclude with our annual business meeting Saturday afternoon; attendees will have the rest of the afternoon and evening to relax and enjoy the beautiful Biltmore property.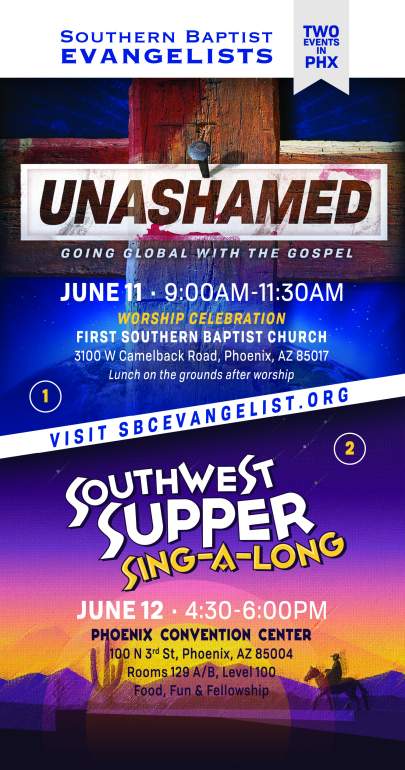 On Sunday, June 11, we will partner together with the church family of First Southern Baptist Church, a thriving, multi-cultural historic church in downtown Phoenix,for an outreach event featuring our music evangelists and some great preaching from our COSBE evangelists.
Crossover this year is taking the form of three days of rallies and community evangelism, culminating in the Greg Laurie Harvest America Crusade the evening of June 11. COSBE evangelists are invited to participate as Field Follow-Up Workers that night, receiving people who come forward at the invitation, counseling and leading them in prayer. Evangelists may sign up to work the crusade at the following link:
https://harvestamerica.com/serve
Monday evening, June 12, 4:30-6:00pm, SBC Evangelists will host a "Southwest Supper Sing-A-Long," at the Phoenix Convention Center in Rooms 129 A/B, Level 100, where we will offer a light Southwest-themed supper, music, fun and fellowship for Pastors' Conference attendees. This will be a great opportunity for our evangelists to meet pastors and build relationships, as we promote the work of Southern Baptist Evangelists and our availability to serve our churches.
Monday through Wednesday, June 12-14, evangelists will attend the Pastors' Conference and Southern Baptist Convention at the Phoenix Convention Center, while also attending our SBC Evangelists' Booth #215 in the exhibit hall.
We are excited about all these events, and do so want to encourage participation for all of our Southern Baptist Evangelists!
The cost to SBC Evangelists for the Arizona Biltmore retreat is $400 per couple, $200 per person double occupancy, or $300 per person single occupancy. To register for our retreat please click on the PayPal button below to pay and reserve your spot. We look forward to seeing you there!
If you are interested in reserving a hotel room at the Hyatt Regency Phoenix (right across the street from the Convention Center) for the days following the retreat (June 11-14), please contact Amy Stockwell at amy@davidstockwell.org.
Thank you so much! We look forward to hearing from you!
Your friend and partner in the Gospel,
David
David Stockwell
President, Conference of Southern Baptist Evangelists 2016-2017
SBC Evangelists ~ Phoenix Convention
Arizona Biltmore Retreat Sign-Up, June 9-10, 2017